MONTY PYTHON
and the Holy Grail
---
Author and Stars
The movie was written and performed by the comedy group Monty Phython in 1975. Monty Python consisted of Graham Chapman, John Cleese, Terry Gilliam, Eric Idle, Terry Jones, and Michael Palin. They play King Arthur, Sir Lancelot, Patsy, Sir Robin, Sir Bendevere, and Sir Galahad respectively. There werer other side characters like Sir Robin's Mistrel, played by Neil Innes. Although the members of Monty Python had larger roles they also took up the part of smaller ones, like when John Cleese plays Tim the Enchanter or the Black Knight.
Synopsis
The movie starts out with King Arthur and his assistant Patsy, they are galloping up to a french castle clapping coconut halves together to make it sound like their approaching on horse. After they meet the guards they go over the probablity of finding coconuts in England and the differences between European and African swallows. Once the conversation falls apart the french guards bombard them with livestock as they run away. As their quest continues for the Holy Grail they come across many noble and courageous men who they grant knighthood to and task with helping them on their task. They face many pearals such as the immortal Black Knight, the Knights who say Ni, the Legendary Black Beast of Aaaaarrrrrrggghhh, and even the fearsome and deadly Rabbit of Caerbannog, but they also make allies along the way like Tim the Enchanter and Brother Maynard. Eventualy they reach the climax of their quest when they charge against the French in a battle for the Holy Grail. However, they are interuptted by the police who arrest King Arthur and his Knights of the Round Table for the crimes they had commited throughout their quest making for a perfect ending to such a charished story.
Review
I would give this movie an A++ becuase it is marvelously hilarious. It is filled with funny scenarios and witty remarks and insults thst only Monty Python could pull off let alone come up with. Monty Python and The Holy Grail is famous to many and is considered a cult classic among comidies even to this day. In short it is has some of the best comedy you will ever find outside of a Mel Brooks' film or a dvd of Mr.Bean.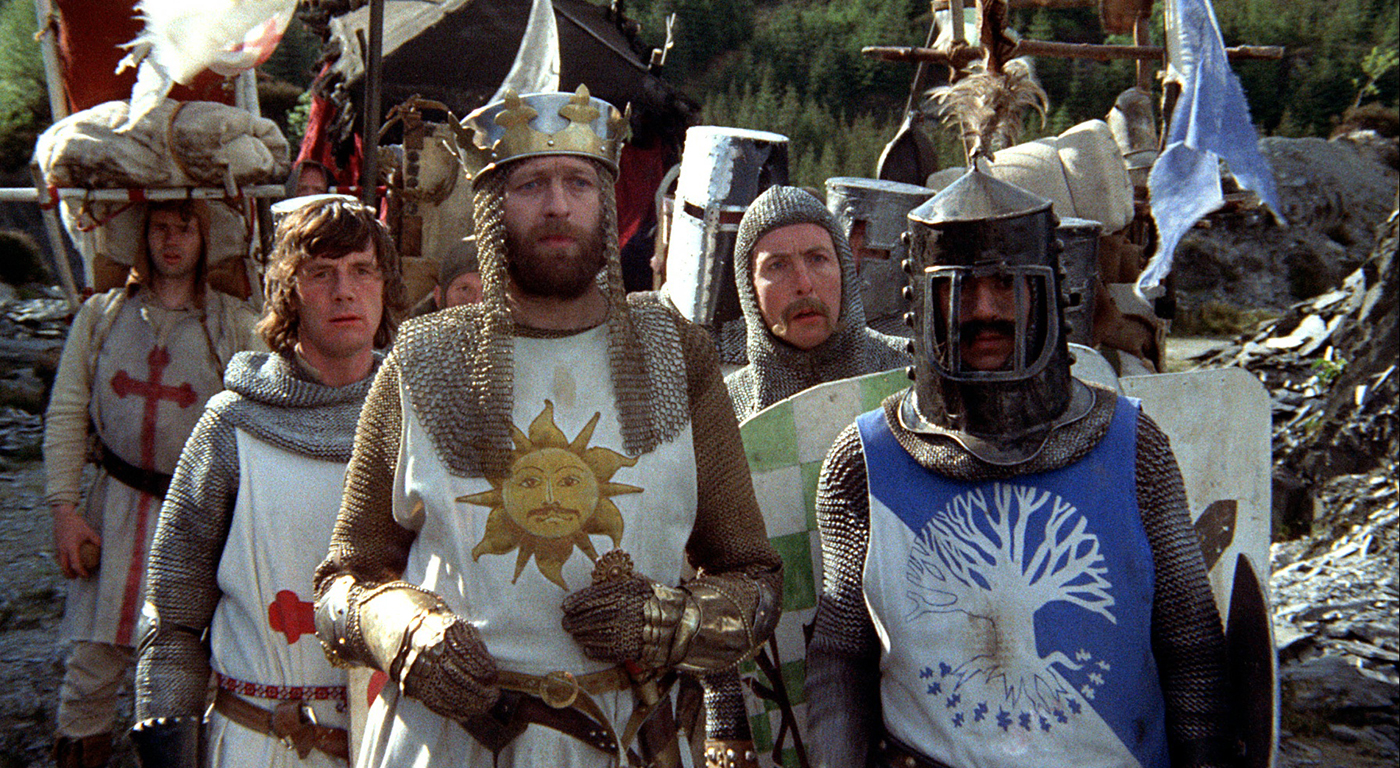 tribecafilm.com/filmguide/monty-python
Darknet
---
Author and Stars
Darknet (the show) was written by multiple people,Randall Cole, James Kee, Sarah Larsen, Vincenzo Natali, Doug Taylor, and Pascal Trottier. The show has many characters but only a few main characters as most only appear in one episode. Michelle Alexander played Alison who appears in the beginning but disappears for some time before reappearing again near the end to be involved in the ending of the series. The other main characters appear in their own episode but similarly disappear only to reappear near the end.
Synopsis
Darknet is a series who's episodes comprise of collected horror stories that in some way relate to the mysterious website Darknet. Each of these stories are creep, dissettling, frightening, and even down right disturbing. There are some stories and scenes that fit together, but so far there is no complete plot. The series ended with all three of the main characters being contacted by a mysterious man who seems to be associated with or even the creator of Darknet it's self. He's been watching them for an unknown amount of time and somehow knows eerything they've done. He hacks into their computers and talks to them but he doesn't portray any clear motive or reason. As he finishes talking the power goes out and the sounds of an intruder can be heard in each of the main characters locations. Sadly that's where the series ends for now, we don't know what happens to any of them or who the man was.
Review
All in all this series is great if you love creepy and disturbing stories. Many of the scenes had brilliant twists that were unexpected but fitted perfectly into the world. The only thing I didn't like was the lack of a proper ending, it would have been interesting to see what happens after the ending, but I guess that just doesn't fit to the overall theme of mystery and the unknown. Honestly I hope for a continuation series becuase the story was very intruiging.